The Los Angeles Maritime Museum is Home to Neptune's Favorites and Much More!
By Marifrances Trivelli, Museum Director
Situated on the Main Channel of the nation's busiest shipping port, the Los Angeles Maritime Museum offers a variety of maritime-themed exhibits for families and school groups of all ages. Visitors are often surprised to learn that Los Angeles is a port city, since the harbor area (encompassing the communities of Wilmington and San Pedro) is located more than 20 miles south of city hall. The Port of Los Angeles celebrated its centennial in 2007, and has enjoyed a rich history in its first century. By 1912 the port was the nation's largest importer of lumber, used to construct homes and businesses in the Southern California building boom. During the mid-twentieth century, the harbor was the center of the nation's largest commercial fishing port. Canneries such as Star-Kist and Chicken of the Sea had local origins, and provided employment for generations of residents. During World War II, the harbor hummed with emergency shipyards turning out oilers, liberty ships, and victory ships for the war effort. The Pacific Fleet called the area home from 1919-1940, and many of the famous battleships damaged or lost at Pearl Harbor were once familiar sights in local waters.
The museum's building has an interesting history all its own. Built in 1941 to serve as the municipal ferry termina (Figure 1), it was the way for thousands of military personnel, cannery workers, and private citizens to commute across the channel to their jobs on nearby Terminal Island. In 1963, ferry transportation ceased with the completion of the Vincent Thomas Bridge, and in 1980 the refurbished ferry terminal opened as the Los Angeles Maritime Museum. The building is listed on the National Register of Historic Places.
Today many of the former ferry passengers return as visitors with their families, this time to enjoy a walk through history (Figure 2).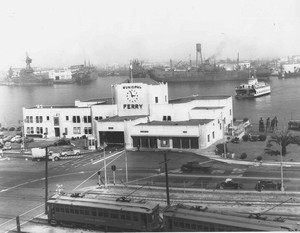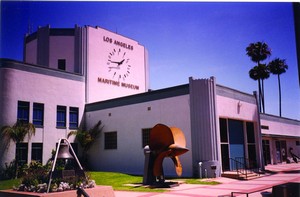 Visitor Information
Los Angeles Maritime Museum, Berth 84, San Pedro CA 90731
Tuesday-Saturday 10am – 5pm (last entry 4:30)
Sunday 12pm – 5pm (last entry 4:30)
Sea Chest Gift Shop Hours 11-4, 1-4 on Sundays
Adults: $3.00, Seniors & Youth $1.00, Children are Admitted free.
www.lamaritimemuseum.org
Telephone 310-548-7618
Exhibit: Neptune's Favorites
The Museum, like Los Angeles Harbor, is a relatively recent phenomenon. This exhibit was created to show that sailors' art, a tradition dating back thousands of years, continues with modern twist. Modernday models in bottles, shell art, wood carvings, and even cartoons are all fine examples of what sailors create in their spare time. (see individual captions that accompany photos)