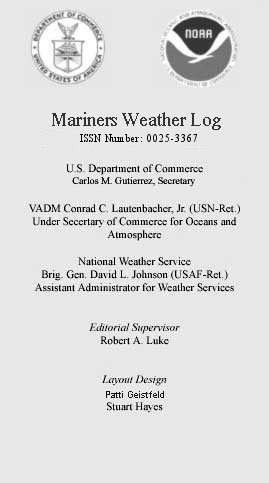 Articles, photographs, and letters should be sent to:
Mr. Robert A. Luke, Editorial Supervisor
Mariners Weather Log
NDBC (W/OPS 51)
Building 3203, Room 305B
Stennis Space Center, MS 39529-6000
Phone: (228) 688-1457
Fax: (228) 688-3923
E-mail: robert.luke@noaa.gov
Hello once again from the wonderful world of VOS. I hope that these hot summer daze are treating y'all well. Remember —lots of fluids & remember your sunscreen...
This is yet another exciting issue of the Mariners Weather Log (MWL). The National Hurricane Center has finally been able to provide a very intense and information packed Tropical review. I am glad they found a bit of breathing room just before the next season really kicks in. To help cool everyone off a bit, the International Ice Patrol offers some refreshing stories about their inception and then improvements in 2006. Our resident historian Skip Gilham finds yet another fascinating story on the loss of the Vessel Francisco Morazon.
On a more official note, the AMVER SEAS Inmarsat address 31102030798481 was replaced with an updated Special SEAS address in 2003. Previous articles and information from your local Port meteorological officers told of the termination of the 3110 address in the future. As of May 21, 2006, the 3110 address is no longer active. If you are still trying to transmit your weather observations to the 3110 address, please contact your local PMO or myself for instructions of switching to the updated address. Please provide which type of Inmarsat you are using, as the instructions are unit specific.
On a personal note, the VOS Program and the MWL would like to wish a fond farewell to our Oakland PMO, Mr. Bob Novak. Bob retired from government service on 01 June and will be sorely missed. Fair winds friend—enjoy Yosemite...
Once again, I hope you enjoy this offering of the MWL and thanks for supporting the MWL and VOS program.
Regards—Luke
Some Important Web Page Addresses