Welcome Aboard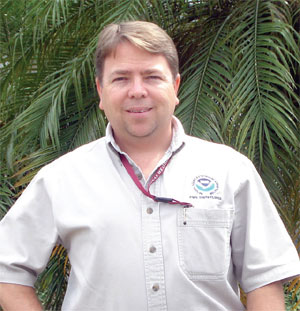 Please join the VOS program in welcoming our newest Port Meteorological Officer (PMO), Mr. David Dellinger. David assumed the PMO Miami, Florida duties on November 24, 2008.
Of course, David is no stranger when it comes to ships, the sea, and of course weather. David joins us with an extensive background from proudly serving in the United States navy for over 20 years. During his first tour in the Navy, David was assigned to the USS MT. Whitney as a Quartermaster and Master Helmsman. By the time onboard the USS MT. Whitney ended, David was bitten by the weather bug. He changed rates and began living his lifelong passion as a Navy Meteorologist. After formalized schooling, David served in Yokosuka, Japan, Cecil Field, FL, the USS Carl Vinson, Key West, FL, Jacksonville, FL, Guantanamo Bay, Cuba, and finally onboard the USS Kearsarge where he served until his retirement in October 2006.
After retiring from the U.S. Navy, David worked in the family auto and export business but still could not shake that weather bug. In 2007, David joined the team at Midwest Weather, Inc. serving as a Weather Technician for the Federal Aviation Administration (FAA) at the Jacksonville International Airport until the VOS program was lucky enough to lure him away.
In his spare time, David enjoys traveling, SCUBA diving, boating and racing motorcycles where he competes in the American Sport Bike Racing Association and the Championship Cup Series in the Florida Road Racing Championship Division. David also likes to race his Suzuki GSX-R 600 in the Super Sport Class at Daytona International Raceway, Homestead-Miami Raceway and Palm Beach International Raceway.
So whether he's on the track or the water, David always has his eyes forward, ever vigilant for what next will come over the horizon.
Back to top