New Vessel Speed Regulations for U.S. East Coast Ports
Gregory K. Silber and Shannon Bettridge
Note: Beginning December 9, 2008, all vessels 65 feet (19.8 m) or greater in overall length subject to the jurisdiction of the United States or entering or departing a port or place under the jurisdiction under the jurisdiction of the United States will be subject to a 10 knot (over ground) speed restriction at certain times of the year in certain locations along the eastern seaboard of the United States. The regulation, issued by the National Oceanic and Atmospheric Administration (NOAA), is designed to protect North Atlantic right whales.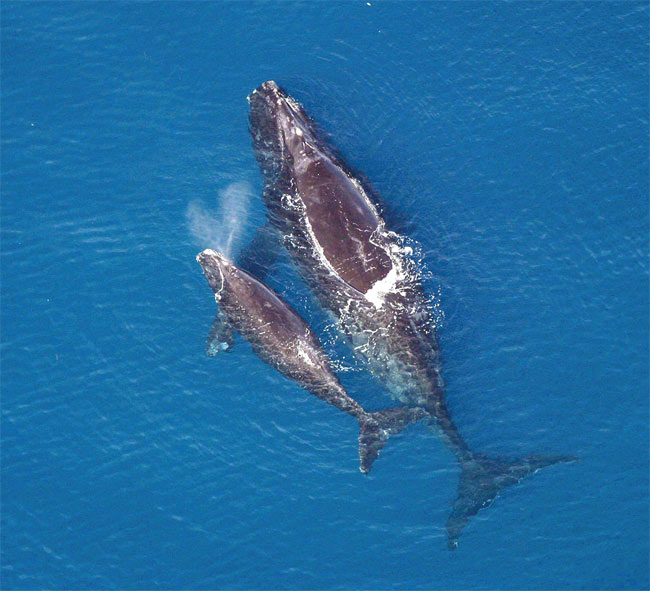 Highly endangered right whales spend substantial parts of the year in coastal waters from Canada to Florida. Collisions with vessels are a significant threat to the recovery of the species, causing serious injury or death to an average of about two right whales a year in a population totaling only 300-400 individuals.
In addition, vessels can be damaged in a collision with a whale. Mariners report cracked hulls or damaged propellers, propeller shafts, and rudders resulting from such collisions. Damage can occur in all vessel classes and sizes. There are also passenger safety hazards. In some cases, particularly those involving small and fast-moving vessels (e.g., ferries), passengers were knocked off their feet or even thrown from the boat upon impact with a whale.
Studies indicate that both the likelihood of such a collision and the severity of injury to a whale can be reduced when vessel speed is 10 knots or less. Nearly all cases of significant vessel damage were reported from vessels traveling faster than 10 knots. Based on scientific data and the immediate need to protect endangered North Atlantic right whales, NOAA has established vessel speed restrictions in times and locations, also known as Seasonal Management Areas (SMAs), of both high whale and vessel densities (see attached chartlets).
There are several exemptions from the vessel speed restrictions. U.S. vessels owned or operated by or under contract to the U.S. government are not subject to the rule, nor are law enforcement vessels of a state when engaged in law enforcement or search and rescue activities.
In addition, a vessel may operate at a speed necessary to maintain safe maneuvering speed instead of the required 10 knots only if justified because the vessel is in an area where oceanographic, hydrographic, and/or meteorological conditions severely restrict the maneuverability of the vessel and the need to operate at such speed is confirmed by the pilot on board or, when a vessel is not carrying a pilot, the master of the vessel. If a deviation from the 10 knot speed restriction is necessary, the reasons for the deviation, the speed at which the vessel is operated, the latitude and longitude of the area, and the time and duration of the deviation must be entered into the logbook of the vessel, and the logbook entry must be signed and dated by the master of the vessel.
In addition to the mandatory SMAs, NOAA may establish voluntary dynamic management areas (DMAs) when three or more right whales are concentrated in an area outside an active SMA. DMAs will be effective for 15 days unless extended. NOAA advises that mariners proceed at 10 knots or less through a DMA or avoid the area. NOAA will issue announcements of DMAs to mariners via its customary maritime communication media (e.g., NOAA Weather radio, web sites, e-mail and fax distribution lists) and other available media outlets. Mariners are requested to monitor Broadcast Notice to Mariners and NOAA Weather Radio for the times and locations of DMAs. DMAs may be established up to 100 miles from shore from Maine to Florida.
Mariners with vessels subject to these regulations are urged to consult Coast Pilots, nautical charts, and the Federal Register (73 FR 60173; October 10, 2008), which is available along with additional information, including a compliance guide, at the following website: http://www.nmfs.noaa.gov/pr/shipstrike. To obtain copies of the brochures contact Cheryl Bonnes (Cheryl.Bonnes@noaa.gov), Kristen Koyama (Kristen.Koyama@noaa.gov), or Greg Silber (Greg.Silber@noaa.gov).
NOAA will provide updated guides, placards and publications for mariners that reflect the new rules as well educational and background materials for vessel crews. These publications will be distributed directly to shipping companies as well as through vessel agents, port maritime exchanges and associations, harbor pilot associations, and Coast Guard Sectors. NOAA and the Coast Guard also distribute an interactive CD with information on right whales and steps that mariners can take to avoid collisions with whales. This CD is available at: http://www.nero.noaa.gov/shipstrike/doc/mtr.html.
Additional Measures to Avoid Ship Strikes
Mariners should also be aware of other steps that NOAA has taken to reduce the possibility of collisions between ships and whales.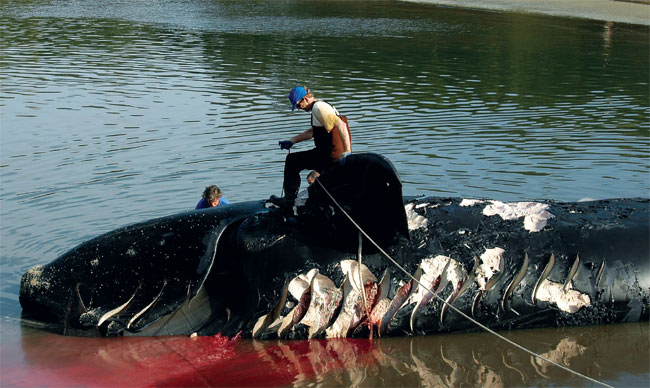 Mandatory Ship Reporting Systems
NOAA and the U.S. Coast Guard operate Mandatory Ship Reporting systems (MSR). Under the MSR, all ships 300 gross tons or greater entering two key right whale habitats — one off the northeast U.S. and one off the southeast U.S. — are required to report to a shore-based station. In return, ships receive a message about right whales, their vulnerability to ship strikes, precautionary measures the ship can take to avoid hitting a whale, and locations of recent sightings. Additional information can be found at: www.nmfs.noaa.gov/pr/shipstrike/msr/
Recommended Routes
NOAA has established a set of recommended vessel routes in four locations. The routes are in the port entrances to Brunswick, Georgia; Fernandina Beach and Jacksonville, Florida; and in Cape Cod Bay, Massachusetts. They appear on electronic and paper NOAA nautical charts. Additional information is at: www.nmfs.noaa.gov/pr/shipstrike/routes.htm.
Traffic Separation Schemes
In 2007, the United States reconfigured the Traffic Separation Scheme that services Boston, Massachusetts. The realignment involves a 12 degree shift in the northern leg and narrowing the two traffic lanes by approximately ½ mile each. The shift significantly reduces ship strike risk to right whales and all baleen whale species occurring in the area, and will increase safety of navigation.
Back to top