Historical Nautical Charts Collection: New York Harbor
Harlem River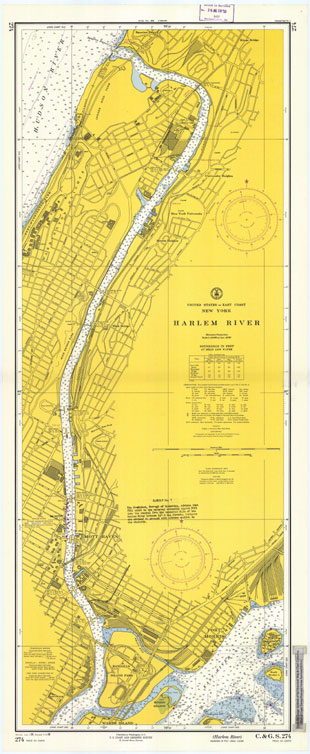 This nautical chart contains an array of features to help mariners safely navigate the Harlem River. The chart includes tidal information for select areas and indicates the location of lights, buoys, river bottom characteristics (materials), shipwrecks, and dangerous rocks. The chart also includes bridge clearances -- to help mariners avoid mishaps by going under a bridge that was too low to clear their ships.
Published in 1958, the chart is the 14th edition of a chart that was originally published in 1939.
Historic Reference
From 1911 to 1964, the Polo Grounds was home to three Major League Baseball teams in New York City. The New York Giants played at the Grounds for 46 years --from its opening in 1911, until the Giants left for California in 1957. The New York Yankees shared space with the Giants for the first eleven of years of the stadium; Yankee Stadium opened in the Bronx in 1923. Finally, the New York Mets played two seasons, 1962 and 1963, in Polo Grounds as they waited for Shea Stadium to be completed in Queens. The final game ever played at Polo Grounds was on September 18, 1963. Alone and abandoned, Polo Grounds was torn down in 1964.
This nautical chart, published in 1958, is the last edition where both the Polo Grounds and Yankee Stadium, which were on opposite sides of the Harlem River, are depicted on the same chart. You can find both stadiums at approximately 40°50'N, 73°55'W.
http://chartmaker.ncd.noaa.gov/csdl/ctp/abstract.htm
Works Consulted
Ballparks of Baseball. (2006). Polo Grounds. Retrieved June 20, 2006, from: http://www.ballparksofbaseball.com/past/PoloGrounds.htm